StoneShot for Sales
StoneShot for Sales is a new feature that sits inside our existing Salesforce integration and allows Sales teams to send out mailings to their entire list – not just a single contact.
The content is controlled by marketing so that the Sales team can't send something 'off-brand' and gives full tracking to their activities shown in a reporting suite tailored to the individual users.
On logging in to Salesforce and opening the StoneShot canvas Platform, Sales team members will have an option of viewing two pages – My Contacts and Reports.
My Contacts
Here Sales members can view list of their own contacts, along with an overview of statistics applicable to those contacts. To change the date range for these stats just choose the filter icon and pick a new reporting option.

By choosing a list option from the dropdown view the user can view just their contacts in any visible StoneShot list.

Additionally, users can import a new list, by choosing the + icon and then selecting from either a Salesforce report or a Salesforce campaign. New contacts will be imported directly into My Contacts where they can begin to send them personalised, fully-tracked emails.
By choosing the Action button at the top users also have the option to Delete or Export contacts. Deleting contacts removes them only from the users' StoneShot for Sales instance, these contacts will still exist in Salesforce and StoneShot.
Sending an email
To send an email, a user can click on the New Email button and by using the simple editor, can get their email out to their users quickly, on-brand, and fully tracked.
Firstly, they need to pick a recipient list. This can be from one of three sources:
A StoneShot list
A Salesforce Report
A Salesforce Campaign Member List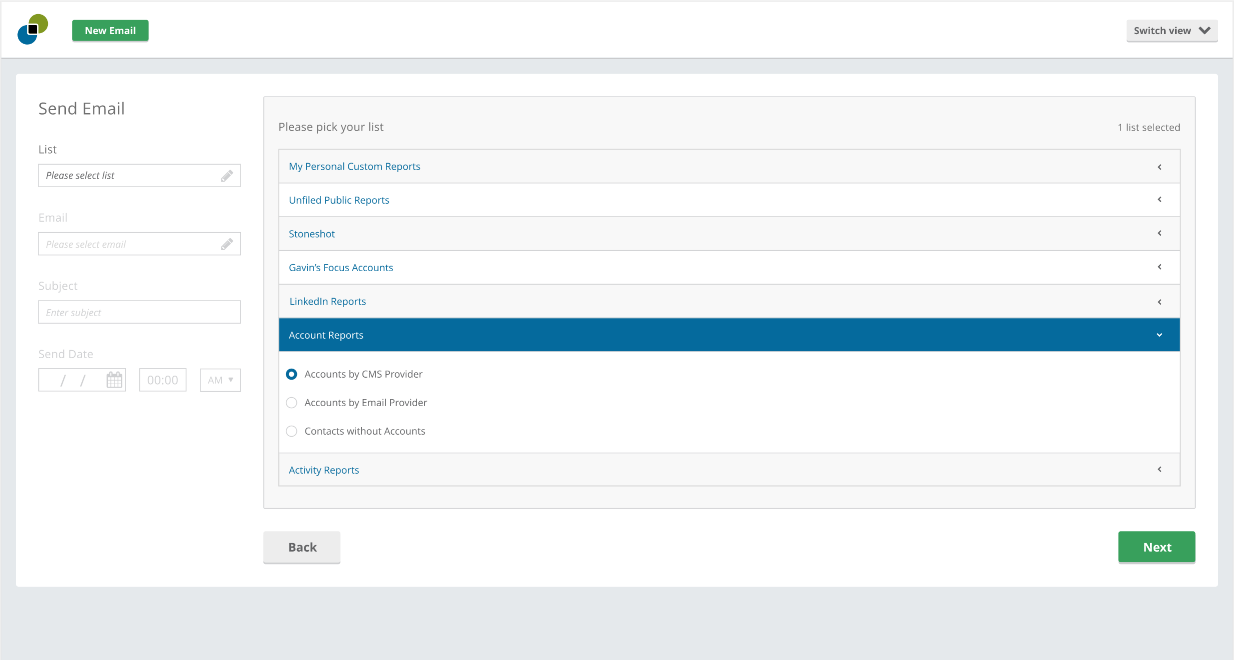 After a list source has been chosen just hit Go and we will get the list ready in the background, add it directly to your email, and you can begin working on your email.
Alternately users can select an entire list or individual contacts from the My Contacts page prior to preparing their email. You will see how many contacts are selected clearly above the list. After making your selection choose the 'Send Email' button.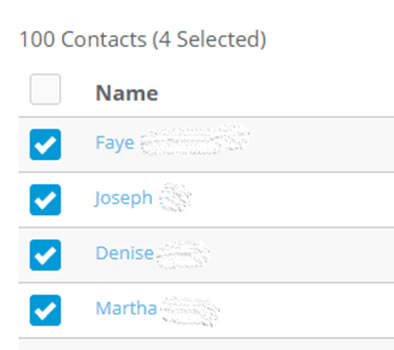 Now you can begin to edit and personalise this email for your contacts.
Add a subject line
Schedule the email choosing a send date, time and time-zone.
Select a template from the on-brand, fully tracked StoneShot templates by choosing an option from the dropdown or just type your own 'outlook-style' message directly into the editor.
Use the editor features to personalise your email, adding text, images and links
If you want to manually add a few extra contacts just begin typing in the List bar, select their email and when your email is ready just hit Launch to send it off to your select group of contacts.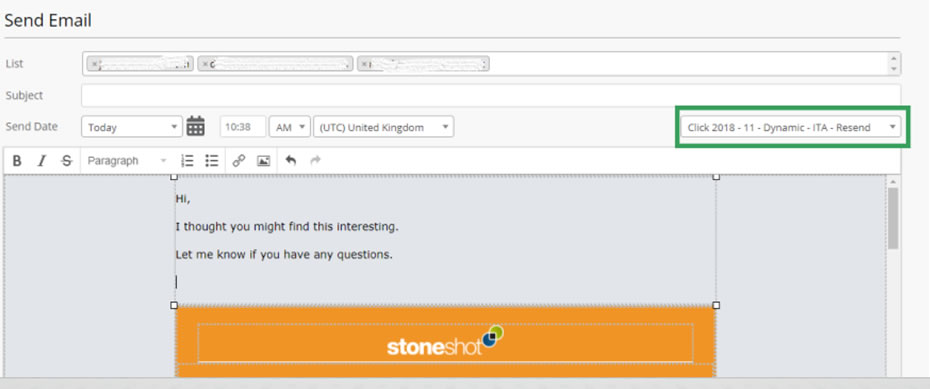 Reports
On opening the Reports page, Sales team members will see an overview of any campaigns that they have sent out personally. These statistics are real-time and help them react to leads as they are happening.
Like the My Contacts page, users can change the date range by choosing a new reporting option via the Filter icon.
Below team members can see campaigns sent to their contacts and can view the campaign by clicking the eye icon, and those recipients who engaged with it by clicking the Reach, Open or Click numbers.

To analyse engaged contacts further users can export them by clicking on the number and choosing Export or select an individual contact's name to be directed to their Salesforce record.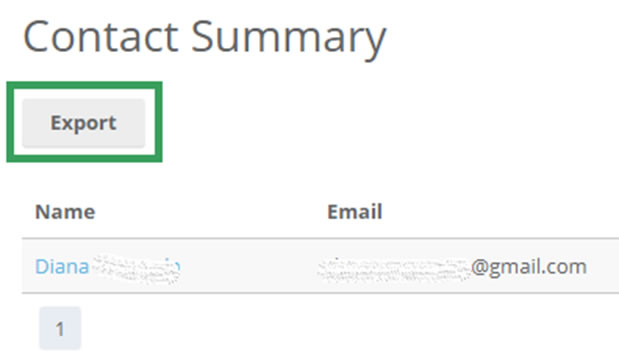 Take a look at our StoneShot for Sales video below for more information.