Engagement scoring
Engagement scoring is a powerful tool that will enable sales teams to hone in on the most interesting prospects, but also provides marketing teams with additional insight into the content generating the most engagement.
The StoneShot platform allows you to capture digital interactions with the website, email campaigns, videos and events and assign scores to those actions; you can then view the scores against contacts, accounts and propositions to see the most engaged.
Engagement scoring strategy
Firstly we'll define how you should set up your engagement scoring. By default the system will measure all engagement as a general score, simply allowing you to view overall engagement per person and per account.
Scoring by tag
We frequently find prospects with a low overall engagement score, but a high rating against one asset class or product. Pin-pointing engagement in this way is an extremely effective way of generating hot leads.
As well as using tags for searching and filtering you can also use them for engagement scoring. The most prevalent approach is to define tags by asset class or product, so you can identify who's most interested in particular product categories. You will use a subset of your tags for engagement scoring, so we would recommend using those ones that the sales team would be most interested in, typically by product or strategy.
A typical set up might give each contact the following scores:
Overall score
Fixed Income score
European Equities score
UK Equities score
Asian Equities score
Scoring values
The previous section determines what content you're going to score; now you're going to define how much you score for each action.
We'll set up your scoring criteria, typically 1 point per email opened, 2 points for a click, 1 for a web page visit etc. We can also specify duration for how long an engagement should stay relevant, for example disregard email activity over 90 days old.
We can also configure different weightings on different pieces of content to allow the
business to assign more importance to certain content. For example, you could specify on
a particular product launch email that certain links should score double as they're so
important.
Implementation
Email, events and video
For emails events and videos engagement scoring is set up by default. Anyone engaging with an email or event campaign or a StoneShot-integrated video (BrightTALK, Brightcove, Wistia, Qumu) will score points for that activity automatically.
In addition, if the user creating the asset also applies engagement scoring tags to that asset, points will also be scored for that category.
Web tracking set up and configuration
The web tracking tools enable you to measure your website activity – unlike standard web tracking, this allows you to view what an individual client is doing on the web site.
This needs to be set up and configured separately but once done can give you:
Measurement – you can measure the amount of traffic to the site, which pages are attracting most engagement
Engagement scoring – you can assign points to certain page goals to increase contact engagement scores; you can also assign points to individual product scores
Sales insights – you can view a full history of each contact's web activity in the same timeline as their email, event and video history in CRM
Marketing automation –you can trigger emails, campaigns and alerts based on web activity e.g. invite a client to a webinar if they visit the fund page
We'll give you a tracking script to embed in the pages of the site(s) to enable this.
As well as tracking all activity we want to focus on specific pages that sales would be most interested in, so for this we identify "goals", or conversions, that we can then use for engagement scoring and marketing automation purposes. We would build out a site map and suggested tag strategy across the site, then "tag" those pages in StoneShot using the existing content and engagement scoring tags.
For example, you would create rules in StoneShot to say that any web page containing the URL ".com/fixedincome" should add points to the visitor's "fixed income" score.
We would recommend setting up goals/conversions around the same tags as you're using to score emails, events etc. Again we would typically see web pages set up with rules to define:
Overall score
Fixed Income score
European Equities score
UK Equities score
Asian Equities score
Feed overall and proposition scores into Salesforce
In terms of reporting this data will be displayed in different places – against a contact as both a prospect segment and in the StoneShot embed which will also give a drill-down into what propositions the client is most engaged with.
However we can also include this information in the data extension package to put the actual data into Salesforce to make it available to combine with other Salesforce information.
Define and set up segmentation label by Score range
We'll then want to define and set up our sales funnel categories and feed that back into Salesforce. You've already defined the segments you want to use (visitors, prospects, marketing qualified lead, sales qualified lead and won deals) so we'll set up the appropriate segments in both StoneShot and Salesforce and map the two.
We'll provide recommendations on the scoring model to adopt for each segment and we'll then configure the automation rules to update the segments automatically based on the digital interactions we've defined.
Configure default Salesforce funnel report
Finally we'll provide a pre-configured funnel report and dashboard in Salesforce, which you can then customise to provide high-level oversight of the marketing-led funnel: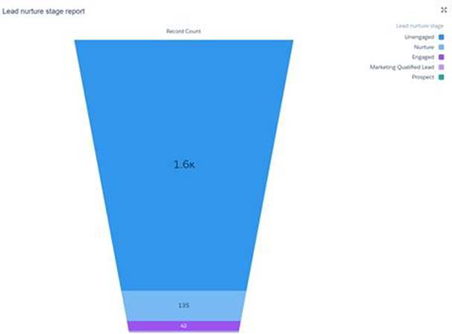 If you need any assistance, please contact the StoneShot support team who will be able to help.