More Reporting
We offer extra levels of reporting in the StoneShot Marketing Platform for times when you need to check what your contacts are doing, or which contacts have been deleted, among other things. You can find these reports in Reports> Other. By default, you'll have access to 4 different reports.

Recent Contact Activity
This report shows your contacts most recent clicks, opens and unsubscribes. You can filter the activity by the top 50, 100, 500 and 1000 contacts, as well as per list.

Clicking the envelope will open the email. You can also see on the report the contact, their company, the date of the activity and the title of the email. By clicking on the contact, it will open the contact record.
Contacts Deleted
This report shows when contacts are being deleted. You can filter the activity by the top 50, 100, 500 and 1000 contacts. You will be able to see which contacts were deleted, their role and company, when they were deleted and by which user.

Contacts Report
This report allows you to view your contacts and when they were created. You can filter the report by date and run the report to see the contacts. You can also download the report to an Excel Spreadsheet with the Export button.
The report will show you the name of the contact created, their email address, company and when it was created in the Platform.

Event Scheduler Logging
This report is helpful to view the status of Event Scheduler emails and Triggered actions. The Schedule Log will look like the picture below.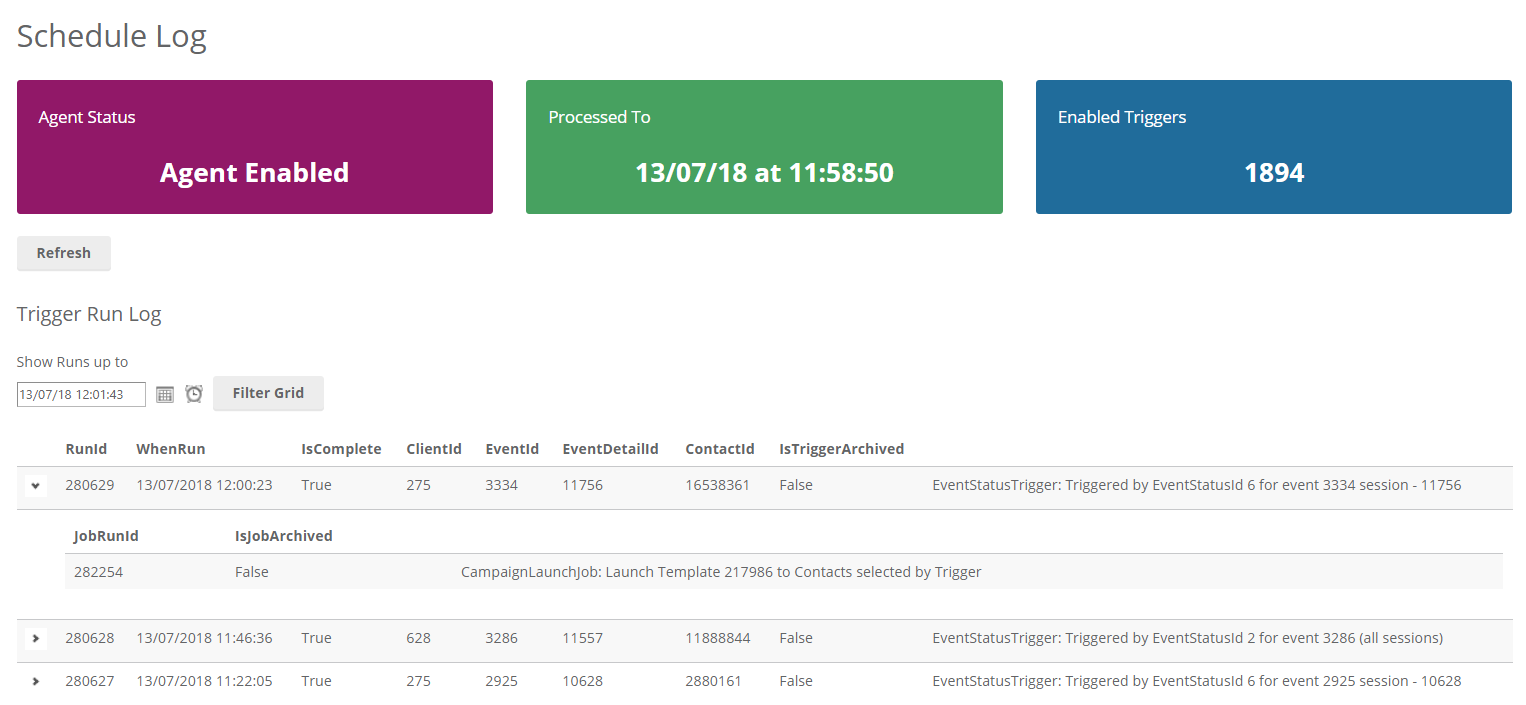 What is displayed here?
Every time you schedule an email for your event – either a confirmation, Joining Instructions or Thank you emails – you will add a trigger. For instance, you could create a trigger to send a confirmation email automatically once a contact's event status changes to Registered.
Every time the email is sent via the scheduler, it will create a log in this report where you can see all the information of the launch.
How to read the report
The Agent Status displays if the schedule is Enabled or Disabled. You can also see the date it has been processed to and the total of enabled triggers.
By clicking the Refresh button you will refresh the information of the report.
Trigger Run Log
The log can also be filtered by date.
The trigger information is displayed in a table format for which it includes:
The "RunID" which is the unique ID of the trigger
When the trigger happened
If it was successful with the "IsComplete" column
The client ID
The Event ID
The Event Detail ID
The unique Contact ID
If the triggered has been archived
The status of the trigger