Do you like receiving emails with content you don't care about? Hint: Neither do your clients. Just as you would quickly delete or ignore those emails, so would your clients — but personalizing emails with curated content can be painfully time-consuming if not near impossible when we're talking about thousands of investment clients.
The quick solution? Automated content personalization. That's just what you need to minimize operational inefficiency around sending email content your clients actually want.
What is content automation?
Content automation in this case means getting rid of the human process of manually pulling and curating content for your emails.
For example, you might want to send out a weekly update of all your latest blog posts. Instead of going to your website's blog section and adding each new blog's image and text to your email template, content automation means you wouldn't have to do any of this at all (for real!).
Why does it matter?
If the thought of going through the motions for the blog email example above gives you dread, then that's already a sign that content automation will matter a lot to you.
For one, content automation saves you time because it could mean you never have to curate content for some emails again — giving you precious hours back in your day to reinvest in more impactful work.
And because it's all automated, there's less of a chance for human error. No more mistaken text, images, or links here.
The bonus? Instead of sending the same content to all of your clients, content automation empowers you to personalize that content at scale. And that means higher engagement. Win-win!
How do you automate investment insights content creation?
Getting started is much easier than you think. Here's how.
1. Make sure you have an RSS feed
First, double check that your website provides an RSS feed where you need it. So if you need it for the insights section of your website, it needs its own RSS feed. Many CMS (content management systems) like WordPress provide this out of the box. But if you're not sure, don't worry. Just ask your website administrator.
What's an RSS feed, anyway? RSS stands for Really Simple Syndication and basically puts all information sources (like blog articles) in one place and provides updates when new content is added.
2. Map the RSS feed to your email template
You'll want to connect this RSS feed to your email marketing platform to then act like a smart assistant, checking for new content every minute and automatically distributing this content neatly in an email. Because each page is made of separate fields like hero image, title, author, date, content excerpt or preview, full content, and link, all of these elements are available to be pulled into your email.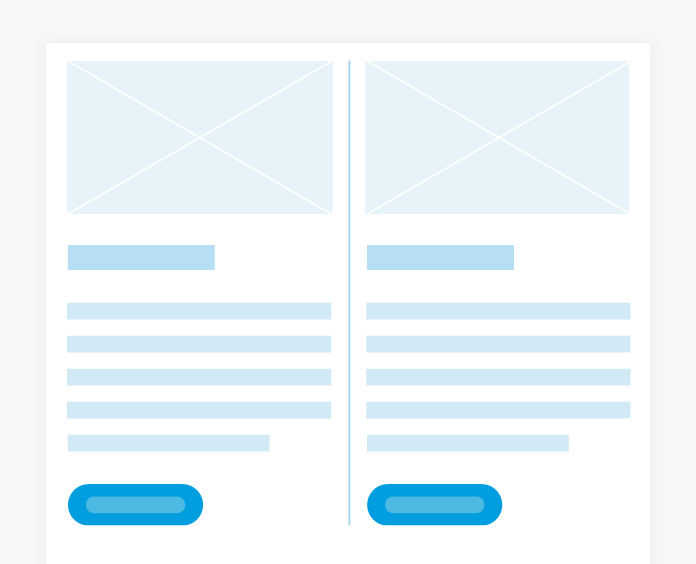 Design your branded email template however you'd need for the elements you want to bring in (maybe you just want title, excerpt, and link). Then, set up your automation and send frequency. Quick tip: Make sure you have enough content to support the frequency you choose. Then, watch it work its magic — dynamically inserting new content upon send — without you from then on.
3. Personalize content based on preferences
Doing steps one and two above is better than letting an RSS reader take over because you have control of the look and feel for a seamless, on-brand client experience.
But if you want to take your email even further and provide extra value? Use a preference center to map content categories to preferences and personalize the insights you send and when.
Do this by first making sure you collaborate with the right teams to have a content tagging strategy, be consistent, and stick with it. If you want to provide a preference for global markets and tie that to content tagged with "global markets," then if something accidentally gets tagged as "global market" instead, it won't get picked up by your automation. And make sure you have enough content to cover a particular topic or else risk not meeting your clients' expectations and disappointing them instead.
Don't forget to offer frequency options as well. This will depend on how much content is published on your website and how often because again, you want to ensure you can support what you're saying you can deliver. Typical choices to offer are daily, weekly, and monthly.
Once clients set their preferences, they'll receive only the latest content they care about. These highly relevant emails mean more opens, clicks, and conversions!
These preferences can personalize web content as well by prioritizing the content they prefer at the top of your insights page instead of having it sorted by publish date for a seamless client experience from email to web.
4. Look at behavioral data, too
Want extra credit? Layer in behavioral data by putting engagement scores on content categories to personalize insights content even more.
Oftentimes, what people say is different from what they actually do. So while a client may say they prefer market insights on index funds and fixed income, engagement scores may paint a different picture and tell you that they actually aren't that interested in fixed income. While you wouldn't disregard their stated preference for fixed income, you may want to push more insights on index funds toward them in general to keep overall engagement up.
In other words, adjust your clients' preferences based on their actual interactions with your brand.
Your sigh of relief is here
Hand-picking insights content to add to your emails or even just adding them all is a painfully tedious process that takes up way more of your time than it should. Talk about operational inefficiency.
Get the best of both worlds — saving yourself the time and hassle and scaling personalized insights — with automated insights around client preferences. You get your time back and clients get exactly what they want, when they want.
Want to get started now? Check out how StoneShot automates content distribution with its email marketing and marketing automation platform made just for investment managers and marketers like you. We've even got you covered with campaign management and strategy and consulting. You'll get superior customer service with real people who care — not a faceless organization that treats you like a number. If you're interested, let's chat.