Financial institutions are a core pillar of society. But that doesn't mean that they are immune to the changes that the digital era brings with it.
And one of the biggest macro-shifts digitalization brings with it? Personalization. Which makes sense if you think about it. Because it captures what modern consumers want: individual service and attention. Yet many financial institutions are struggling to embrace this trend due to their size, siloed departments and data sources, government regulations, and strict privacy laws.
But as consumer demand for individualized experiences grows, it's imperative that companies offering financial services embrace modern website personalization strategies. And when we say personalization, we don't just mean customizing your emails, we're referring to tailoring your entire website experience to your customer's wants and needs.
We realize this is easier said than done. But doing so pays off. Financial companies that achieve personalization at a scale can minimize operational inefficiencies. Meaning their marketing budgets and efforts are optimized and pack more of a punch because they know where their customers are and what content attracts them.
So let's look at the steps you can take to enable website personalization and make your financial services shine.
How to personalize your website
Implement a preference center for your customers
Start by putting in place a customer preference center. A centralized page on your website that lets clients decide what sort of content or communication they wish to have with your brand. Typically, the preferences you can offer your clients can fall into four categories:
Email lists or content
Interests or topics
Frequency or timing
Marketing channel
Use as many categories as you want, and don't limit yourself to only email communication. Preference centers can encompass SMS, mobile push notifications, or even physical mail.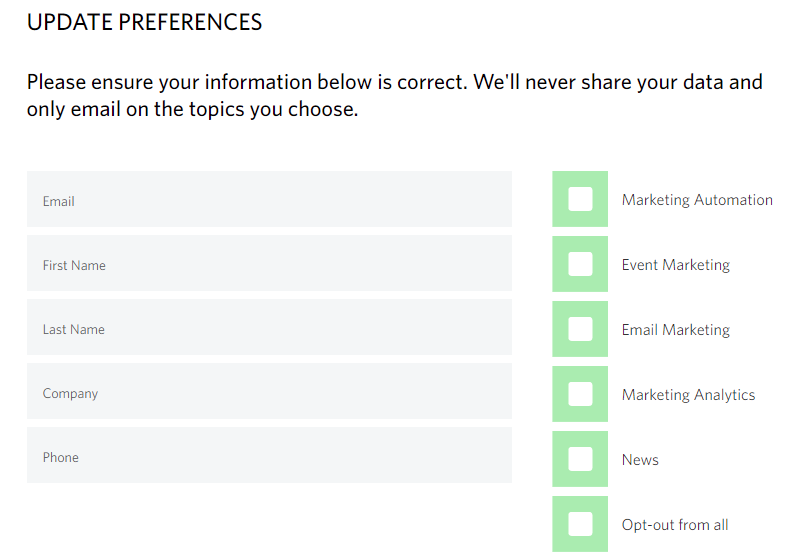 In addition to a preference center, you can implement a first-party cookie to collect analytics data and remember smaller user choices such as language settings from prospects visiting your website.
Automate the distribution of fund documents
Once you've gathered people's communication and content preferences, time to take it up a notch and personalize the experience of fund documentation communication. Papers and information that are a key source of information, but receiving these via email can feel chaotic for fund managers overseeing numerous funds.
Why? In our analysis, people stated that such emails were not appealing, user-friendly, or personalized. There was also a delay between when documents were available and being sent to customers.
However, this type of information is crucial to share. So there are two ways you can make the experience more pleasant and personal:
Have a dedicated page where each customer can find the fund documents that are relevant to them.
Alternatively, you can track what funds clients are interested in and send them the pertinent documents, in real-time, each time a new publication or information is available.
One of the world's biggest global banks has its Investor Alerts powered by StoneShot. Investors can sign up on their Investor Relations pages and receive personalised alerts when new content is published.
Prioritize content production around the client's interest
Armed with information about your customer's communication preferences, the type of content they are eager to receive from you, and the potential funds they follow, it's time to prioritize creating content that's of interest to them.
Say you create content around five broad topics for your website. Based on data from your preference center, give a score to each of those topics in terms of popularity. This makes it easier for your marketing team to know which subjects to create more content about. And for financial advisors to manage their clients.
However, rather than drafting an email or calling a client whenever a new, relevant blog is published, automate the distribution of blogs posts via email. Automate this simple nurturing task that keeps your company top of mind, delights customers via preference-aligned communication, and drives traffic towards your insight page.
Strategically use gated content
Not all of the content that you create needs to be shared with the entire world. As some of it is only relevant for a select few people. Stop sharing irrelevant content and keep more exclusive elements on a separate part of your website such as behind a lead generation form or a client login portal. Thus removing barriers to content for people you already know or service.
How do you know which content to gate? It should be valuable, in-depth content, potentially confidential information that is not easily found on another website.
Personalize which content and events are shown to users
Take all of the above one step further by only showing relevant content or events to your clients. Using StoneShot's Marketing Platform API, display events that users have not signed up for, which are close to them geographically speaking, and match their selection voiced in the customer preference center. You can also hide client-only events from users who are not customers. Pair this element with an easy registration form that is prefilled with your client's data to create an outstanding client experience.
Alternatively, feature content at the top of your insights page that matches a user's interest and which is highly relevant for them. Getting people to click through and read content that will feel as if hand-selected for them.
Identify how each client is engaging with your site content
Personalizing your website is essential, but you need to know if your efforts are paying off. To do this, implement reporting and analytics capabilities to see which pages and content are performing well and which could use some refining. Observe how new users and clients are interacting with your content based on their IP addresses
In addition to looking at your page performance, benchmark user interaction. Give each user an engagement score (something which our Marketing Platform will automatically do for you) and pinpoint the most active users. Those could be individuals that are easy to transform into customers.
By knowing which pages people are drawn to and how they interact with your content, you can keep refining and optimizing your website and personalization efforts. Taking some of the pressure off that everything needs to be perfect on the first launch.
Final thoughts
Today's customers want personalization across all communication and social channels. And they expect it from every industry, even the financial and banking sector.
To achieve this, financial institutions need to align strategy and technology to prioritize the user and their experience. Automation is one of the ways you can quickly elevate your website personalization efforts without it costing you much additional manpower. Instead, it's about having the rich technology stack at hand to elevate your current efforts.
Personalizing your website is a lot easier than you think! StoneShot can help with its marketing automation platform, campaign management, and strategy and consulting services. What you'll get: a friendly face and superior customer service. What you won't get? A faceless organization that treats you like a number. Interested? Let's chat.