Client engagement is a core objective for all fund marketers, but it can vary widely across the board, indicating that a communications mismatch often exists between professional investors and fund marketers.
To get a detailed picture of how much an issue this is, we interviewed professional investors and fund marketers across the globe to gain insight into what causes that divide.
The results? 70% of professional investors receive emails from more than 6 asset managers every day, but only 28% of them said 50-100% of fund marketers struck the right communication balance. Furthermore, asset managers are blind to this problem with 90% saying that their communications are good, very good or excellent.
We have compiled a report called Bridging the Divide which contains the conclusions from the research as well as guidance on how to improve your own communications program. The report looks at professional investors' ideal type and frequency of communications with ideas on how fund marketers can meet those preferences.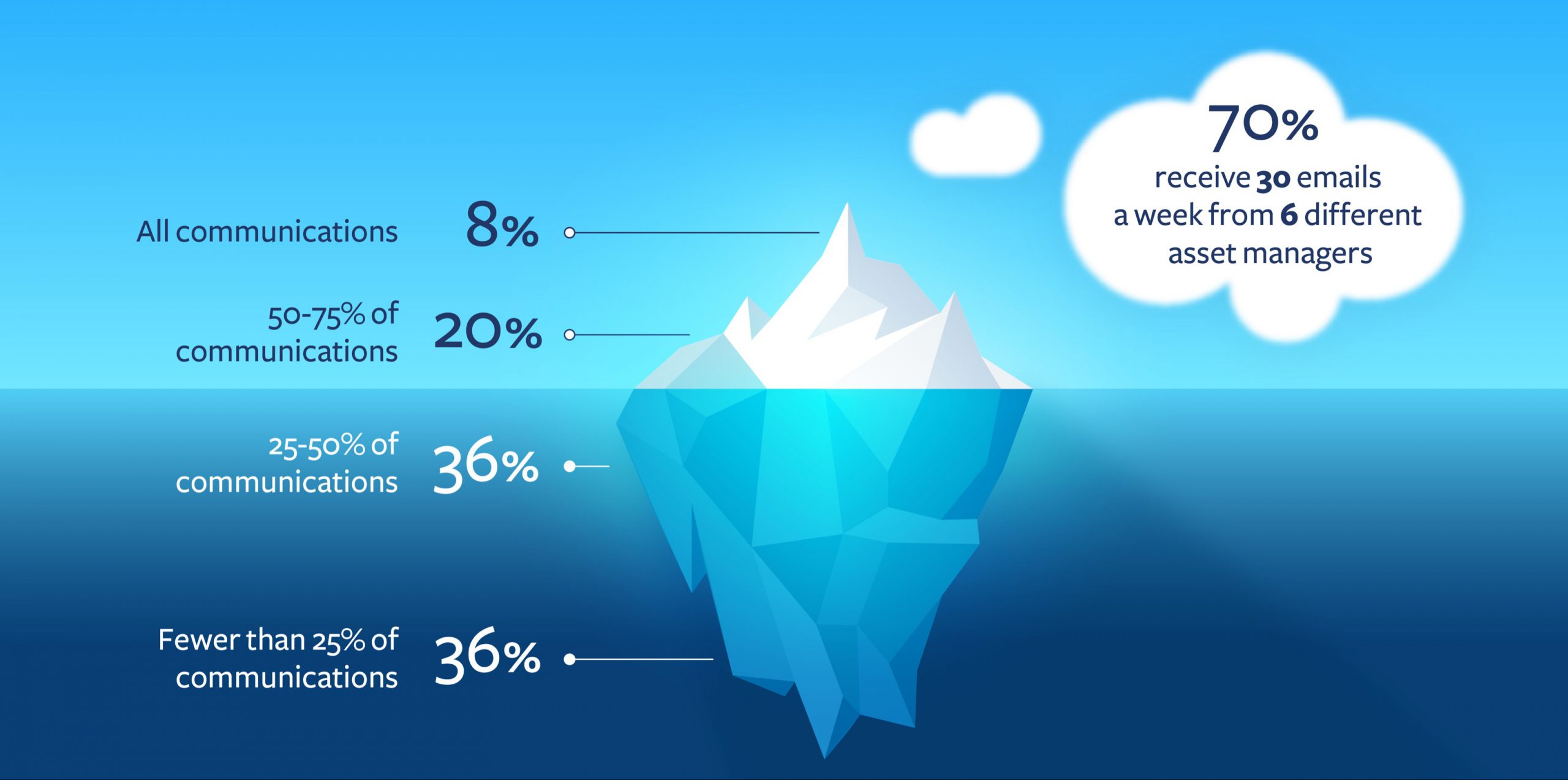 Every successful marketer knows that landing a client is never the end of the story. It's only the beginning of a new chapter.
A chapter that involves putting in the work to build trust and forge ties that hopefully leads to a long-lasting financial relationship. To accomplish this requires on-going dialogue to convey the need for your product or services and to reinforce the real value that a long-term partnership can provide.
Yet marketers at asset management firms face a challenge when it comes to effectively communicating this message to their advisor clients. In the U.S. alone, there are more than 21,000 registered investment companies, more than double the number from a decade ago. Even if your company is fortunate enough to earn the business of an advisor, it is highly unlikely to be an exclusive relationship.
In fact, a new StoneShot study of advisory and asset management firms found that many financial advisors work with six or more different investment companies at the same time to fulfill the asset allocation needs of their clients. Roughly two in five work with more than 10 different asset managers simultaneously — each with dedicated and motivated marketing departments attempting to differentiate themselves from the crowd.
The result?
Advisors' inboxes are being flooded each week with a torrent of messages from their asset manager partners, making it that much harder for each individual investment company to distinguish itself through communications. It's no wonder that more than nine out of 10 asset managers surveyed by StoneShot say that "standing out in a competitive field" is among their biggest challenges.
For the full report free of charge, please check out our resources section.