One of the key trends we expect for financial services marketers in 2021 is an investment in personalization. This trend is also confirmed by the results of the StoneShot annual survey, according to which our clients, who vary across the spectrum of the personalisation maturity model, want to focus on new digital projects which have better personalization, seamless integration of preference centers and CRM, cleaning up and collecting good client data, building preference centers and utilizing integrations with key technological partners.
It's no surprise that personalization is a focus since it drives up the return on investment for client acquisition and retention for most brands. Offering relevant products and services to the consumer drives better engagement and potentially more revenue.
However, like everything, personalization is a continuum. At StoneShot, we follow a common Personalization Maturity Model (PMM) and we can see that our clients' work fall under different stages.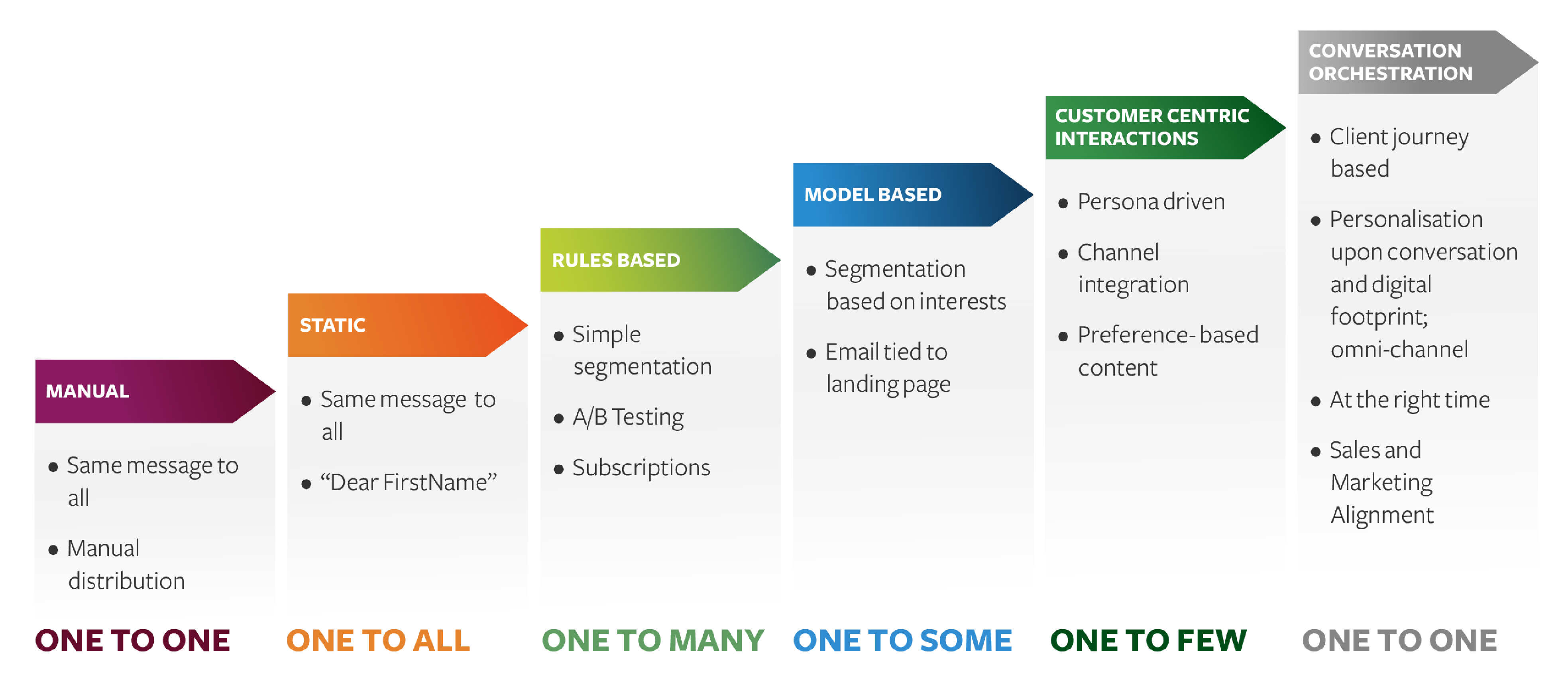 The first stage is Manual which involves no personalization as you are sending the same message to all using copy-paste or bcc. A key disadvantage of this aside from lack of personal touch is the absence of performance tracking metrics.
The next stage is Static, which uses basic email automation to personalize your communication according to their name or salesperson signoff, but still utilizes the same message to all.
Things get a bit livelier in the Rules Based stage, which is slightly more advanced and uses fixed emails around communication subscriptions and manual segmentation of contact lists. A/B testing is also used to optimize engagement.
Moving further along in sophistication is the Model Based stage, which introduces channels segmented by audience based on their interests and preferences. However, the content is still being 'pushed' to these audiences.
There is more potential to increase ROI in the Customer Centric stage, which uses more automated content based on the topic of interest. Typically, this involves channel integrations to manage preferences and distribute content.
Finally, the ultimate goal is to get to a Conversational stage, which delivers content across the right channel at the right time for each specific audience member. In this stage, omni-channel communications drive better relationships between a firm and its clients. This stage is also characterized by seamless marketing and sales alignment.
Putting it in Action
To get to the final two stages of the Personalization Maturity Model, some fundamental technology and processes need to be in place.
Preference Centers
In order to get to the last 3 stages of the PMM, there needs to be a central place where our clients manage their audience member preferences.
Currently, a lot of financial services marketers operate on a communication preference basis where a sales manager chooses a distribution list typically based on region, investor type and product. However, these are categorical rather than personalized to the individual receiving the communication.
A more sophisticated manner of personalization utilizes content preferences which can either be done explicitly (checked an option on a form) or implicitly (based on content engagement). We have done both approaches for different clients and usually find a mix of implicit and explicit criteria to be ideal.
Email Automation
Automating emails by using dynamic content need not end on the client's name and signoff. Integrations of the StoneShot Marketing Platform with other internal systems which contain client data and website content will enable the automated delivery of content to the right client or prospect when the relevant content is ready. A common example of these are personalized newsletters where the preview content and links displayed in the email are all relevant to the subscriber based on their communication and content preferences.
Behavior Workflows
Behavior workflows are essentially an automated way of sending emails and following up depending on who interacts or opens the emails. This is most commonly used to deploy communications when using implicit preferences. One of our clients used emails which referenced whether the audience member had read the previous communication, and if they hadn't, it would include a brief summary of the previous message. To keep the distribution list at a high standard of quality engagement, a trigger was built in so that if someone didn't read three messages in a row, they would receive a 'disruptive' message.
Automated Fund Document Distribution
We noticed that none of our clients particularly liked their fund documentation emails because it was not user friendly and personalized. Furthermore, there is a delay in when the documents were available and when they were being sent.
For some of our clients, the StoneShot automation tools and real-time CRM integration enabled the sending of documents in real-time once the documents were ready. The distribution data (new contacts, country, etc) for who got which fund was kept in CRM and the lists were dynamically generated at the point of send.
Website Personalization
Previously, these projects seem to never end. With our API, something that used to take months could be reduced to weeks. You can pull in contact data from StoneShot to help personalize the microsite and web experience which determines what information is to be shown to each user. Imagine being able to get rid of the 'what kind of investor are you?' dropdown and still showing relevant content.
Some examples of personalization include only showing content around their interests, showing content based on the products they are invested in, differentiating content shown to clients versus prospects, etc.
Event Personalization
Declutter your event landing pages by only showing events relevant to clients with our StoneShot Marketing Platform API. Couple this with easy registration via a pre-populated form for a great client experience. You can also build in a one-click de-register button.
If your visitor isn't a client, you can hide client-only events and use demographic data like location to improve the user experience.
If you want more examples to learn how we are helping our clients get to a more sophisticated personalization stage, book a meeting.