Your clients may be struggling in today's world with many competing priorities pulling them every which way. And that makes it harder for you to reach them.
Instead of talking at them, connect with them.
Using emotional intelligence and empathy in your email marketing is one of several ways to stand out in the inbox and get through to your subscribers. Let's dig in deeper on what emotional intelligence means, why it matters, and how you can express empathy in email.
What's emotional intelligence?
Emotional intelligence is understanding the whole person: their mood, behaviors, pain points, and what makes them buy. Because, according to PsychologyToday, people don't buy products or services — they buy into how those things make them feel.
In essence, it's about being ridiculously customer-driven and considering your audience not just as clients but also people, just like you and me.
Why is empathy important in financial services?
The COVID-19 pandemic and the socio-economic turmoil that followed has blurred the lines between work and life. It's all just … life. The world has been suffering, and people are now demanding more from the companies they do business with.
"Forward-thinking organizations can play [a major role] in cultivating a better world without having to make significant trade-offs between profit and social impact."
– Deloitte on human-centered capitalism
The financial services industry is no exception.
In our COVID-19 Impact Report, our clients in top banks and asset management firms revealed the need to communicate simply, instill trust, and think for the client. In other words, empathize.
So how do you show empathy in financial services emails?
It all starts with having a diverse and inclusive workforce to reflect your market. You otherwise cannot authentically understand and empathize with your audience's struggles. Without this authenticity, your efforts may appear performative.
If that's still a work in progress for you, chat directly with a diverse set of your audience to get a pulse on their state of mind, what matters to them, and how that's impacting their day-to-day life.
With your clients in mind, here are three simple tips on how to move forward with using empathy in financial marketing emails.
1. Be inclusive in your language and imagery
High growth financial services brands are 1.35x more likely to have DE&I-related (diversity, equity, and inclusion) branding and messaging imagery than negative-growth brands.
Here's how you can embrace diversity and representation:
Source diverse imagery to transform your email into an experience that's welcoming to people of all stripes. Unfortunately, many stock photography resources feature affluent, white, western, abled-bodied, and cisgender people. Start exploring more diverse stock photos instead.
Use inclusive language that avoids marginalization and perpetuation of stereotypes. It may seem obvious, but for example, defaulting to masculine pronouns is so rooted in our vocabulary, you
may not even notice you're doing it. And some financial terms are downright sexist.
Translate and localize content if you have a global audience. Translations by themselves don't take into account local idioms and customs. Localization gives your message authenticity, taking into account regional differences.
Simplify your words to make your emails easier to understand by everyone. Even if all of your clients speak English, it may not be their first language, so your message risks being confusing or maybe even offensive. People who are neurodiverse may have a harder time understanding what you're trying to say.
2. Make your emails accessible to all
According to the World Health Organization, 15% of the world lives with a disability. And, 2.2 billion have a visual impairment.
In the Email Accessibility 2021 Report from ActionRocket and Beyond the Envelope, 23% of people adjust their settings to make emails easier to read. Although 77% don't, they may just delete your email without taking action instead.
There are many best practices to consider: live/HTML text, descriptive image ALT text and calls-to-action, and more. Creating accessible emails can get very technical, but this email accessibility guide breaks the tactics down for you. Make progress by tackling accessibility one small step at a time.
This email from LendingTree is an inspiring example. It uses HTML text over a background image so it's easy for screen readers, its color contrasts pass Web Content Accessibility Guidelines (WCAG), and the button uses descriptive text (also great for screen readers):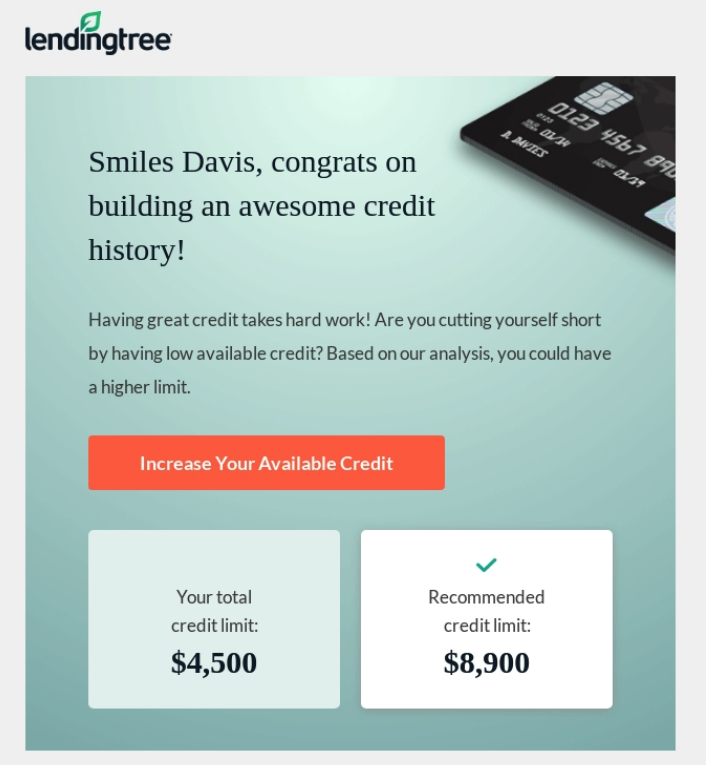 Source: Really Good Emails
3. Consider the state of the world
When the pandemic first began, many "business as usual" marketing came across as insensitive. Those who pivoted to crisis communications and caring about their audience as more than just a "sale" are the ones who got increasingly loyal customers in return.
Even if an issue has nothing to do with your business, it impacts your client's lives — and that impacts your bottom line.
5WPR's Consumer Culture Report reveals that 83% of millennials find it important that companies they buy from also align with their values. But this isn't just a millennial thing. 73% of 35-54 year olds and 60% of 55+ year olds feel the same.
Ask yourself these questions:
● What matters to my audience?
● What affects them personally?
● What affects them professionally?
● What's going on in their part of the world?
Making a stand can be very risky, but it may come with a high reward.
Ellevest did a wonderful job of showing their support for the Black Lives Matter movement and the broader Black community in a way that was still relevant to their business of wealth management.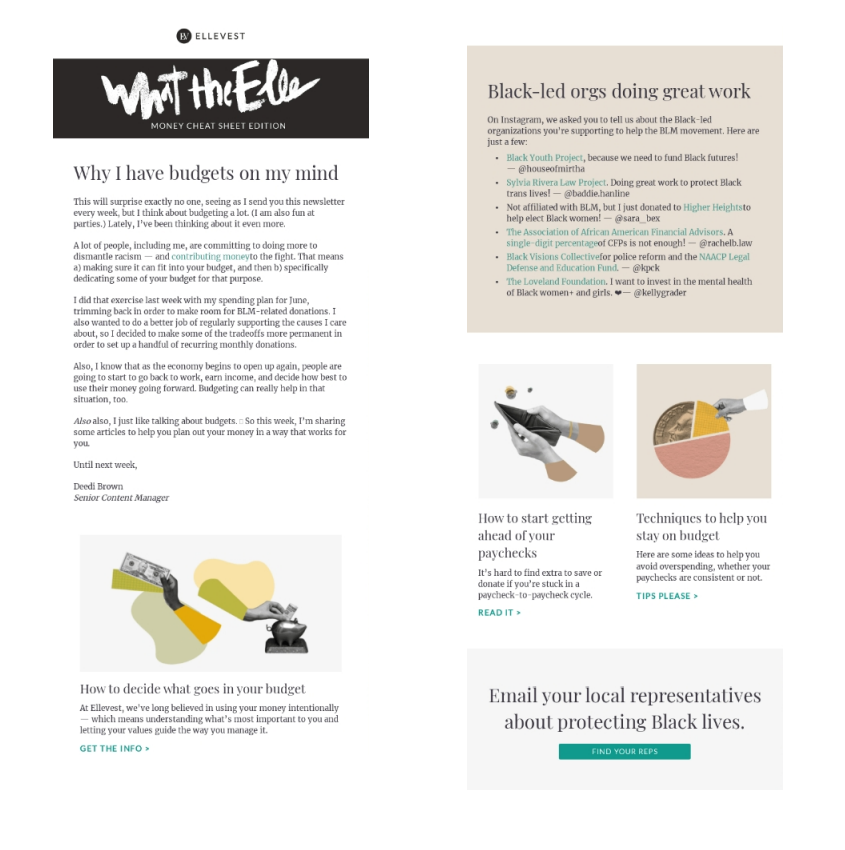 Source: Really Good Emails
At the very least, watch your tone and messaging.
If something major has happened or is still happening, check and adjust your automated emails as needed. Change your planned email communications to reflect the latest environment. Has something horrible occurred? Forego the cheery message.
If you don't? You risk facing serious repercussions — like a public relations nightmare — for your company that may be difficult to bounce back from.
Empathy is the key to your clients' heart
Showing empathy in financial marketing not only makes you stand out but also makes your business rise to the top of your clients' mind. It's what makes the difference between transactional relationships and fanatical brand loyalty (even if your competition is cheaper).
Want more ways to make your email marketing stand out in the crowded inbox?
Check out StoneShot's email marketing platform and agency services for help with strategy, campaign management, design, and more. With StoneShot, you don't get a faceless organization — you get friendly faces who take the time to truly understand you and your needs.