If you're an established company, your website most likely has many pages. And despite a clear navigational architecture, the addition of new web pages which, for example, highlight unique features or a new product launch can remain unseen by most of your target audience.
This is where a dedicated microsite can come in handy. It's a marketing tool and strategy that allows you to shine a spotlight on one specific item or feature. By creating a unique branded experience for a designated target audience, you can stand out from your sea of competitors while boosting your engagement.
But before we get ahead of ourselves, let's delve into the what, why, and when of microsites in addition to how to build a successful one.
What is a microsite?
A microsite is simply a small-scale website. It consists of one or a few web pages that exist separately from your main website. Most likely, these pages will have their own URL or domain and will be dedicated to a specific product, person or event.
Because such sites are either purely promotional or highlighting company blogs, they are designed to highlight a specific topic. This means that the website structure will be a lot simpler. A microsite won't have pages such as "About us" or "Meet the team." Instead, this cluster of pages focuses on generating engagement and interaction with the user.
For example, SVM Asset Management is a privately-owned equity management fund. The company's website is all about its business. Therefore, they chose to host their blog section on a specialized investment microsite. Why? Because this gave them more creativity and brand freedom and allows the content team an easy portal to add and update content frequently.
When and why should you implement a microsite?
Companies most often develop microsites to raise awareness about a particular product launch, person, or upcoming event. They are best used for short-lived campaigns, such as an exclusive summer promotion release, rather than the addition of a permanent collection. Why? Because they help to generate excitement and by being a one-time event, it portrays the promotion as more exclusive. You'd also lose traffic and lead generation opportunities by siphoning traffic away from your main website over the long term.
But why would established financial brands set up a mini-website outside of their known company website? Because a microsite allows companies to change their content strategy and alter their tone of voice to speak to a particular target audience.
Marketing teams can get more creative by breaking free of the structure and design of their company website while also having access to valuable data about only one offering. Because a microsite is only a few pages and solely about one topic, it's much easier to measure a user's interest and engagement levels than on your company website across hundreds of pages.
In addition, it's a lot easier to update content often if teams don't have access to the entirety of the corporate website back-end. In fact, that's the reason why BNP Paribas Asset Management hosts its blog on a separate domain. To give their content team more accessibility and freedom.
Lastly, microsites are easier to promote. You can use them for dedicated campaigns and share the URL across social media and email newsletters.
How to build a microsite
Armed with this knowledge, now's the time to get started. Now, the process for creating a microsite for brands in the financial sector will vary depending on your brand goals and needs, but there are some general steps every company can follow.
1. Identify the purpose of your microsite
Why do you want to develop a microsite? You should be able to answer this question in one sentence. Whether it's to advertise an event or introduce a new product or service, it's important to know exactly what you want to achieve by developing a microsite.
2. Get familiar with your brand guidelines
Before you get started brainstorming what you want an investment microsite to look like, it's a good idea to know how far you can push your current brand guidelines. From design to written content, some microsites could have rigid brand criteria. So before you start brainstorming what you want to see and potentially hire a creative team, it's important to know your brand guidelines and how far you can stretch those.
3. Specify your target audience
Who will your microsite appeal to? Before you launch a microsite, consider who you're talking to and trying to reach. Who will be interested in this unique brand experience? This information will allow you to personalise your message and design a better user experience.
For example, Opera Tech Ventures is a subsidiary of BNP Paribas, but the brand didn't fit on the corporate website as they appeal to a niche audience. Therefore, we built them an investment microsite which would speak to the niche audience of BNP Paribas.
4. Decide on KPIs to measure and define success
What would make your financial microsite successful? Are you aiming to collect a certain number of email addresses or reach a certain number of new users? Knowing how you will define and measure the success of your microsite also dictates the design decisions and help you further optimize it to get the intended results.
For instance, the BNP Investigator is an ongoing thematic campaign that BNP Paribas run. The site revolves around one key theme and is complemented by a series of articles and funds. The microsite functions as a portal to unite and wrap together all of this content, in addition to collecting email addresses to further nurture potential customers. Using a built-in form, people can sign up for updates. This form is connected to StoneShot's content distribution technology which means that when a new article is published, it's automatically emailed out to all subscribers as well.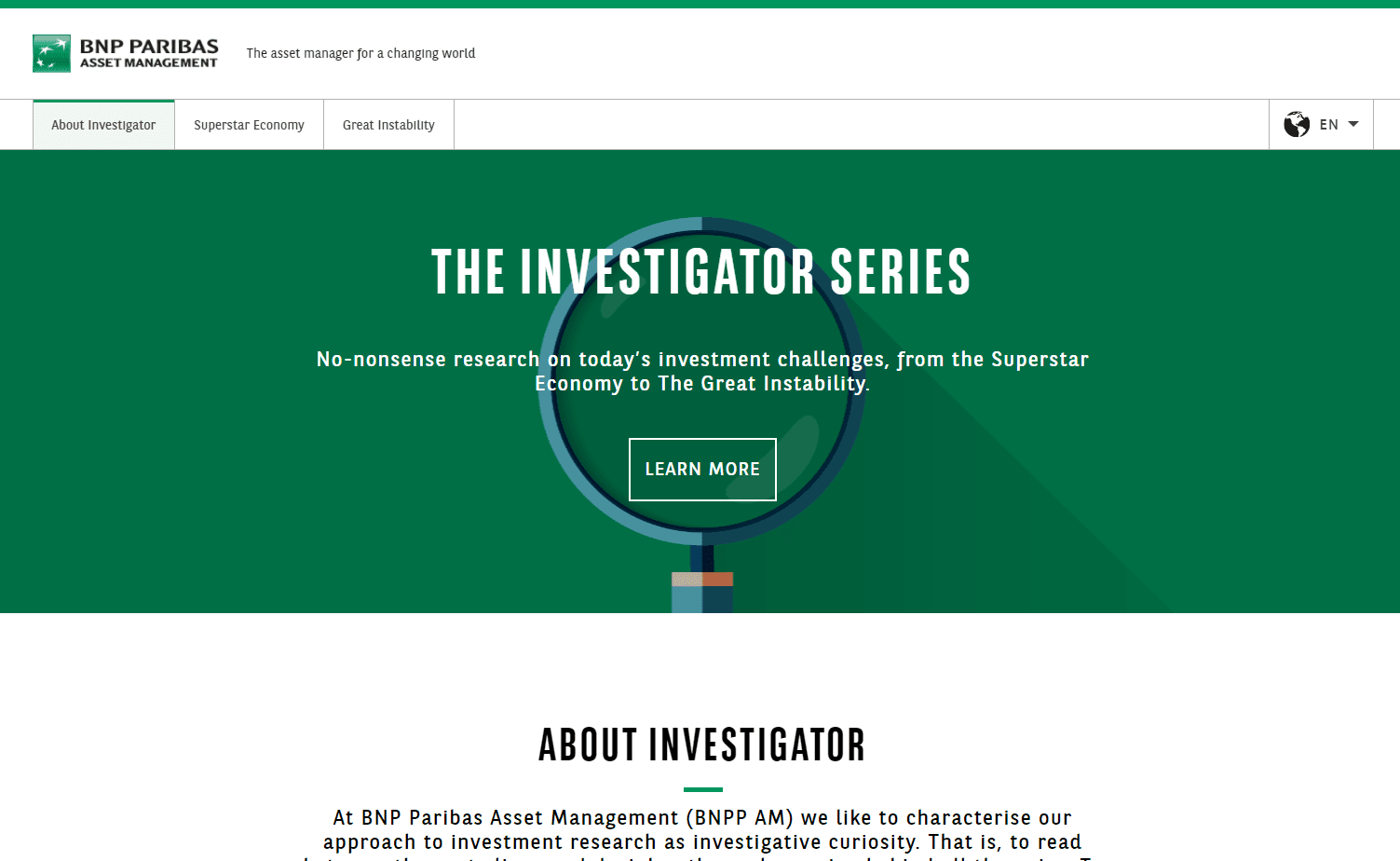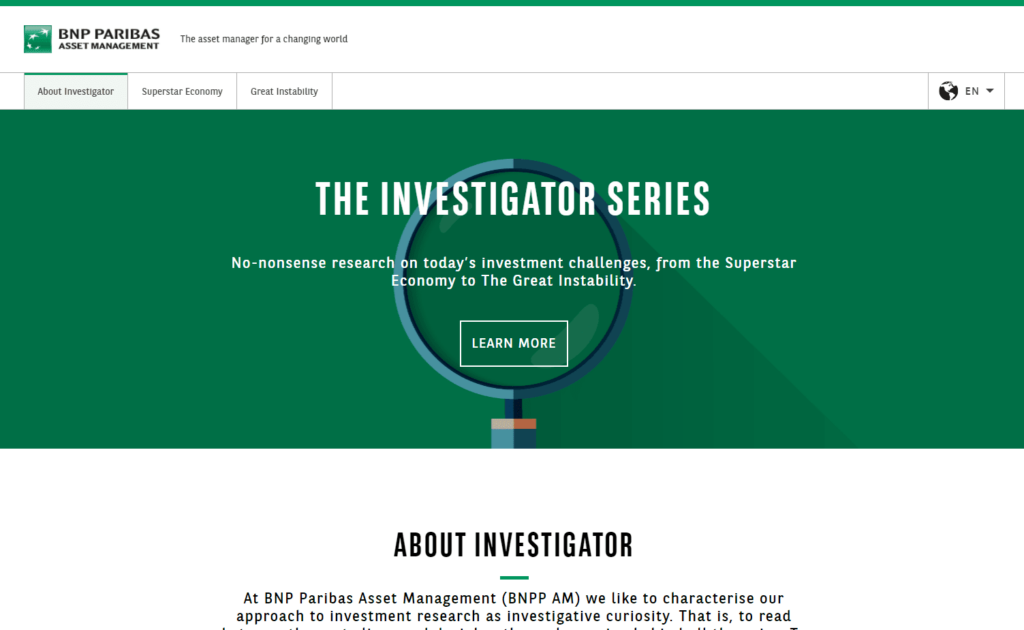 5. Prioritize content and personalize when possible
A microsite is usually one page or a handful only. Therefore, consider what content is truly worth highlighting and the main message you wish to get across. And content isn't limited to words only. Photography, animations and other interactive elements count as well.
When building a microsite for Legal and General Investment Management to promote their latest research paper, StoneShot created multiple dynamic one-pagers for different audiences which displayed different content based on the user. Additionally, the site recognizes users that are email recipients versus those that come from ads. Email recipients can get access to the research straight away, but those that click on an ad have to fill in a form to access the research. This simple demand generation technique increased LGIM's subscriber base.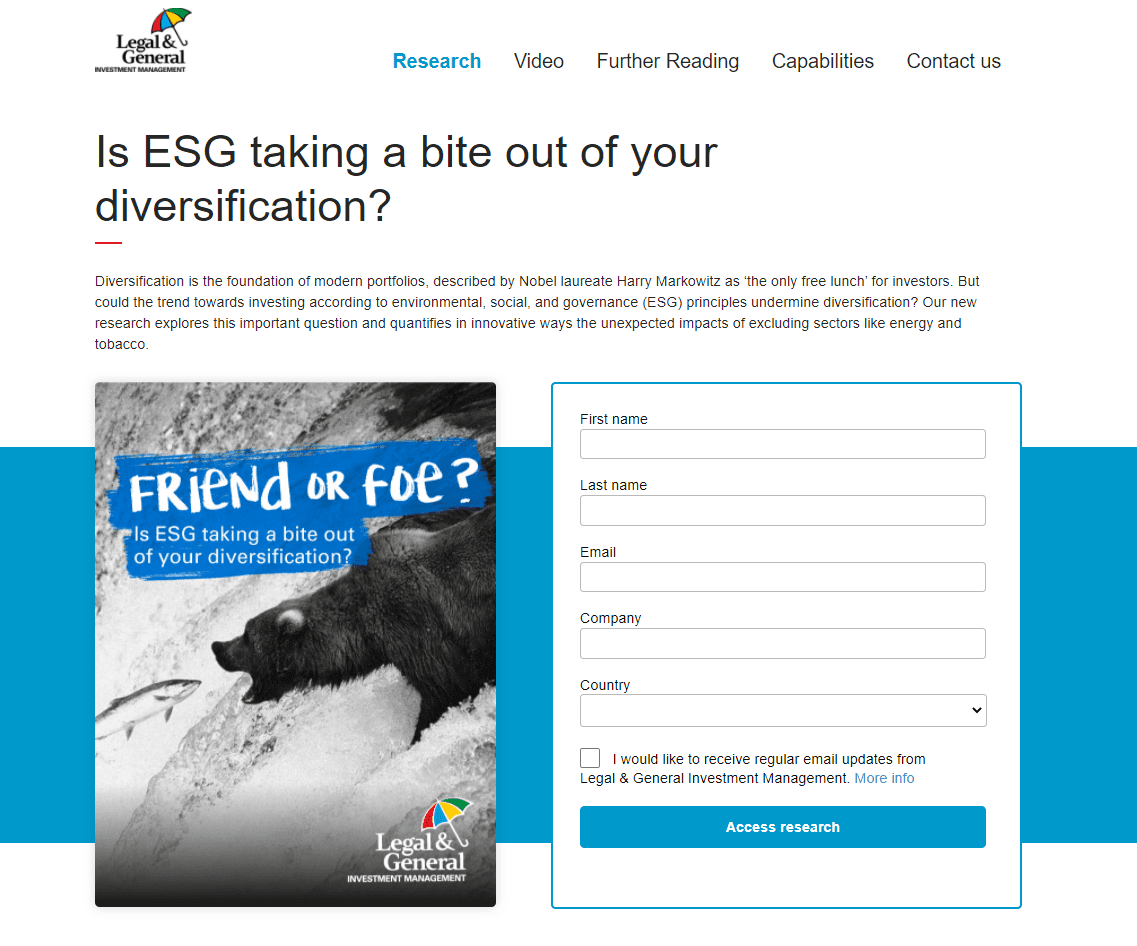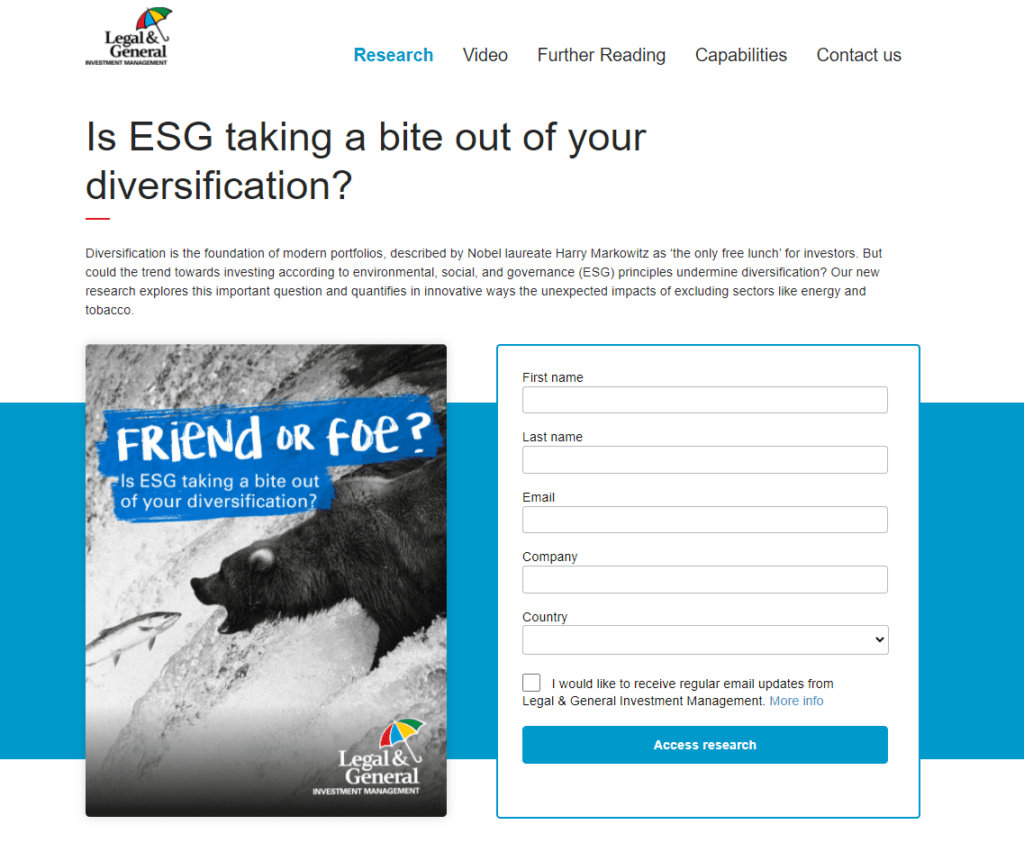 6. Don't forget basic best practice guidelines for website development
Simply because you're releasing a microsite, and not a full-fledged website, doesn't mean that best practice guidelines don't apply. Keep in mind the user experience, SEO elements and incorporate a strong call-to-action.
It's also best practice to review the content on your investment microsite and make sure it's not a repeat of text that's on your main company website. This is to avoid being penalized by Google for duplicate content.
Finally, remember to add key analytics tags so that you can monitor metrics for engagement.
Final thoughts
Microsites are a great way to promote a new product, feature or event. They can generate excitement, raise your brand awareness and help foster conversations with a specific target audience.
Every microsite is different, but by defining a purpose, deciding on worthy metrics and keeping in mind personalization and SEO elements when possible, you'll be on the right path when developing your financial or investment focused microsite.
Want to know more about how to build a microsite and connect it to your CRM? Get in touch to see how we can personally help you.