StoneShot CRM
Whilst we've developed some easy to use contact management tools within the StoneShot application, we understand that CRM tools are all-powerful and have a wealth of data management tools that aren't available within StoneShot.
Our role isn't to compete with these CRM systems as that isn't what we are. We looked at the major players – Salesforce and Microsoft Dynamics – in the market and have created two solid integrations to get your CRM and StoneShot talking.
We created our first CRM integration (Salesforce) back in 2007 and have increased the feature list from sharing contact details and email activity, to now giving users the ability to create and send emails, and even manage events all from within the Salesforce Canvas application.
Here's a rundown of what we've done.
Environment
Deploying the whole StoneShot application within the Salesforce environment means that users won't need to log into the StoneShot web app, users can use StoneShot within Salesforce instead. This includes:
using the StoneShot email builder to create and update email templates
sending emails
managing all aspects of events including scheduling automated emails
viewing detailed reporting on StoneShot campaigns at both a campaign and contact level
Lock down your templates for Sales to send emails
All users have access to StoneShot, which allows them to create and manage email and event campaigns, view and analyse metrics.
The new integration gives Sales the tools to be able to create and send emails themselves from within Salesforce, using Marketing-created, tracked templates. The crucial difference here is that they don't need to have access to the main StoneShot app (and as such have reduced permissions) to do this.
Effective list management
Sales and Marketing will have the ability to create dynamic lists within Salesforce and send targeted mailings. These can be generated using a number of methods including using Salesforce campaign members and reports or picking up target groups based on their criteria, email or event behaviours.
Lead scoring
Raw email metrics are useful to Marketing, but what Sales really want to know is which contacts are most engaged. Lead scoring provides a way to accurately measure, analyse and report back on key contacts who have been warmed up by Marketing activities and are ripe for more Sales engagement.
Salesforce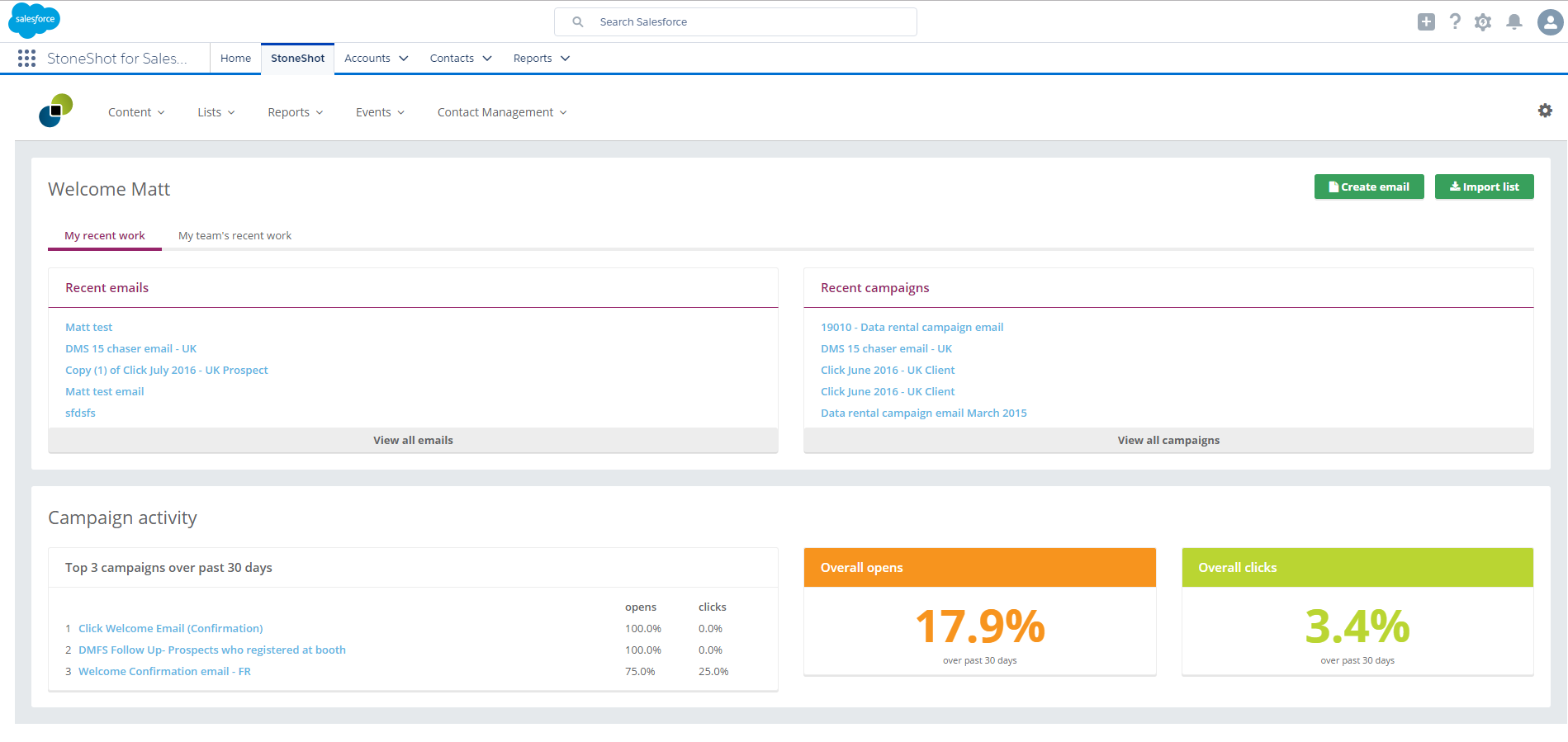 Microsoft Dynamics
Our Microsoft Dynamics integration allows users to map their CRM fields in Dynamics, to the fields in StoneShot and push lists and contact data through to StoneShot.
This means that your lists and contact information is always up to date in StoneShot, and saves you as a user having to manage the same data in two places.
Our integration takes care of the data syncing for you meaning your Microsoft Dynamics database is always the master. We'll be adding our StoneShot for Sales, Contact embed and Account embed features in 2020 to make sure you have all the tools you need within Microsoft Dynamics.