Form Builder
The Form Builder is a great tool, allowing users to create, test and launch your own forms through the StoneShot Marketing Platform. Similar to our Email builder, the Form builder contains a drag-and-drop tool for adding, removing and editing a selection of different form elements, enabling you to create customisable forms through a really simple process, without the need for any coding experience.
Setting up a new form
To create a new form, navigate to Content > Forms and click the 'New Form' button at the top of the page.
Step 1 – Form Details
Add your form name and description, create a custom url of your choosing, and select a form type.
Additionally, you will see options at the top of the screen to Copy, Delete and Preview the form.
Standalone form – build, test and launch your form through the StoneShot form builder.
External form – build, test and launch your form externally outside of StoneShot. We can still capture submissions and control access through the Settings tab however you cannot test or launch the form through the StoneShot form builder.
Microsite form – You can build, test, and launch your form through the StoneShot form builder, and it will be associated to a StoneShot microsite. If you select this option, you will be asked to choose which Microsite the form will appear on.
Step 2 – Form Design
On this page we can begin to build the actual content of your form.
Choose the form template you want to use.

Similar to email builders you can choose from the options of pre-built form templates that have been prepared for you. The template you choose will be the base of the form within which you will add the form elements, meaning the banner, footer and form styles will already be built in for you, so all you need to add is the form elements themselves. If you don't have any created, please get in touch with the Support Team who can sort this out for you.
Edit the form name and introduction text by clicking on the text.

From the left-hand menu drag and drop the form fields you want to use into the body of the form.

Choose from Contact – eg. email, company, custom fields (salutation etc)
Or Segmentation eg. Sales Manager or Event segmentation

You will find an option to move, edit or delete on each form element, additionally you can make answering the field mandatory by swiping the Required toggle.

You will see different options in the Editor box depending on the type of form element you are working on:

Text field e.g. Email/first name/company – You can edit the field name, field size (small, medium, large), required message text
Dropdown field – Segmentation e.g. Event segmentation, Sales Owner etc – You can edit the field name and also change the field type from dropdown to multiple choice or checkbox. By default all of the options within the segment you have chosen will appear in the form, unless you remove them by selecting the ' – ' icon.

As well as contact and segmentation options you can create totally new and custom fields to add to your form. To do this click the Add Custom Element option.Custom elements can be one of the following options:

Short answer – a small text field
Paragraph – larger text field
Multiple Choice – by default 3 options are created, click edit to add or remove and rename the options in the field. Use the Plus and Minus icons to add or remove options.

Checkboxes – by default a single checkbox is created, create numerous checkboxes to have a group of these that recipients can choose from.
Dropdown – by default 3 options are created in the dropdown, click edit to add, remove and rename the options. Use the Plus and Minus icons to add or remove options.
Section break – Although not actually a form field this is useful for separating areas of your form or to use as a title between sections.

A useful feature of custom fields is the option to copy the field, so if you have another question with similar answers you can copy and rename a previous question rather than beginning from scratch.
Step 3 – Form Settings
Now the form is taking shape we are ready to add some additional features:
Open and Close date – limit how long your form will be live for. If the form is for an event you can choose the close option based on the event timeframe.

Access – Choose who can access your form and whether their submission will update your database. By default, anyone can access and submit the form, existing contacts will be updated, and new contacts will be added.
Notification & Confirmation:

Send a Confirmation email upon form submission – choose the email you want to send from the dropdown list of all your existing templates.
Send a Notification email to a StoneShot user with the details of each submission. This can only be used for StoneShot users.
Update segmentation on submission – for example set a contact to Registered for a particular event or assign them to a certain segment field.

Messaging – Add a message for when contacts submit the form or what they see if they access the form after the close date (if applicable).
Tags – Tagging your form is a great way to keep track of and categorise your forms.
Submission export map – Allowing you to export the submissions from the form. Please note – if you update the form content you will need to update your export map for the submissions to reflect the changes.
Step 4 – Test & Launch
Your form is now ready for testing, you can use the Preview URL to test and view the form.
By choosing the Test option you will be able to send the Preview url to yourself or other StoneShot users, along with a message, to try out the form and see if everything works.
If you update your form, ensure you use the 'Update Test' option to ensure the most up to date link it being tested. Use 'Delete test' if the test is no longer needed or you have finished testing.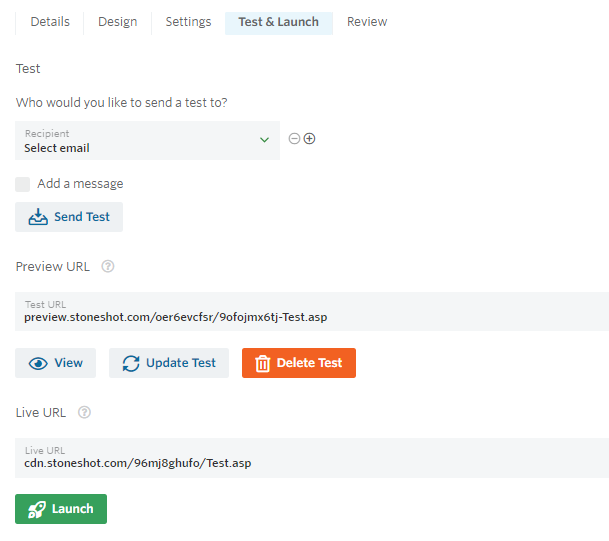 Once your form is tested and you are happy with its functionality you are ready to launch the form. The live url is the url the form will be available at once it is launched.
After you have launched the form you still have the option to Update it to make any new changes live, make it inactive again, or close it once it is no longer needed.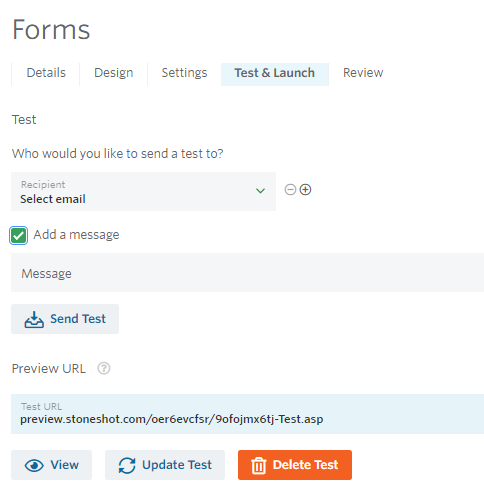 Step 5 – Review
Well done! Your form is now live. Use the Review page to see how many submissions have been received, to view them individually, or export them to excel.

The table below also shows further data on the submissions received.

If you require any form features or functionality which is not covered in the Form Builder, please contact our Agency Team and we would be happy to assist you with this.
Take a look at our Form Builder video below for a run through.