As asset and investment managers, you're a big part of your clients' lives — but they always have the choice to take their money elsewhere. Although email marketing helps you capture and keep your clients' attention, financial services emails are often caught in a sea of sameness.
What makes yours any different?
To catch your clients' eye and increase email engagement, stop email blasting. Instead, be smarter with your email marketing so you can win in the inbox — we'll show you how.
Here are several tactics to use today and set your financial services emails apart.
1. Nurture clients with storytelling
Each email should be part of the broader tale of your clients' lifecycle — nudging them along from acquisition and activation to retention and reactivation.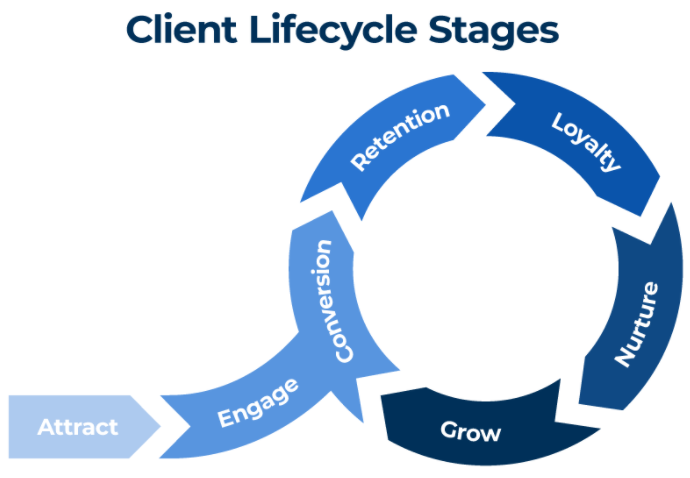 Storytelling puts the focus on your clients, their problems, and how your business can help them save the day and make them the hero. It's not about touting how awesome your brand is. You are not the hero.
Ann Handley, Chief Content Officer of MarketingProfs, shares an easy-to-follow storytelling framework:
Once upon a time, there was (your product).

It has the capacity to (your product's superpower).

Some people doubt it because (what the doubters might claim).

But one day, (something happens).

Which means (how your would-be customer now needs your product).

To help (the people

your customer

serves).

And that matters because (how your customer becomes the hero).

That brings together a community of (the larger market of those whom your product serves and brings together).

Someone gets a kiss!
The ROI of storytelling is 27.06, according to the Significant Objects Experiment. Talk about a happily ever after.
2. Personalize with relevant content
Our Bridging the Divide report revealed nearly 75% of advisors frequently receive emails from their asset manager partners that aren't relevant to their needs.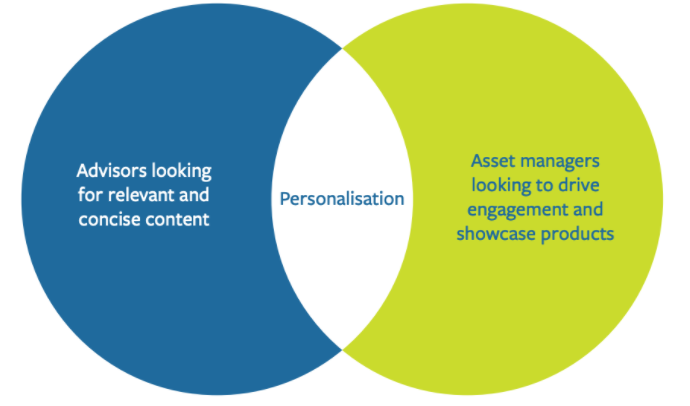 The key to breaking this cycle of miscommunications — and standing out from the crowd — is to understand your clients' needs and preferences and adjust your content accordingly.
Yes, this is possible despite the legal and compliance hoops you have to jump through (and without being creepy). Even small steps toward email personalization make a huge difference.
At StoneShot, we follow a common Personalization Maturity Model: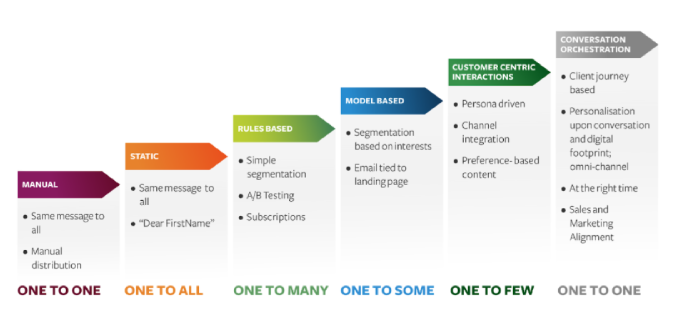 One of my favorite ways to get started is with an email preference center. This avoids privacy concerns and the creep factor by letting your clients control what information they share with you.
In general, the more valuable and helpful the personalization is, the more people are open to it. It's all about making life better and easier for your clients — not telling them what you know about them.
3. Turn to automation and triggered emails
The key to scaling storytelling and personalization is email marketing automation, allowing you to catch your clients' eye with the right message at the right time.
Specify rules and triggers to kick off workflows based on your contacts' actions. Has a prospect just watched a lot of your videos? Set in motion a workflow to invite them to subscribe to your newsletter with similar content, delivering timely relevance.
4. Talk like a human
So much of wealth management is filled with jargon and acronyms. If you want to stand out, get rid of them. Jargon masks real meaning. No matter how smart your clients are, never assume they know what you're talking about.
Harvard Business Review found that business jargon is not a value-add. Especially in email where you only have a few seconds to catch someone's attention. Making people think about what you're really trying to say can turn them — and their wallets — away.
You're a business with people talking to other people, not faceless entities.
One trick in writing your email copy is to think about how you'd talk to a friend. This doesn't mean you have to be super casual, but being conversational is the goal. At its core, that's what email is: a conversation between two people.
5. Use emotional intelligence
More than just talking like a human is being one. Sounds simple, but it's easy to get lost in being all business all the time. Email marketing is relationship marketing (even when you're selling a product or service). And the people you're communicating with are diverse and may have messy lives.
Financial marketers who tap into emotional intelligence and empathy are the ones who capture their client's hearts and minds — and as a result, their money.
COVID-19 and the recent socio-economic turmoil has led to a heightened sense of the world's wellbeing, and email marketing should be no exception.
One of the takeaways in our COVID-19 Impact Report was to focus on adapting your email marketing tactics to the situation and getting your tone right. Your clients are experiencing different things in their lives, and ignoring that is like ignoring them completely.
6. Design emails that aren't boring
A large part of the "sea of sameness" is due to many financial services emails looking like each other. Take away the logos, and could you pick yours out from the crowd?
Retail doesn't have to have all the fun. Your emails can be beautiful, too.
This email from Invesco is an example of balancing fun and function: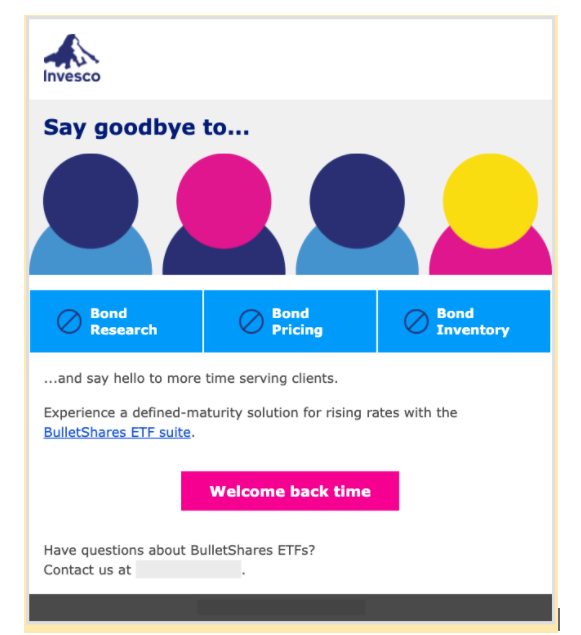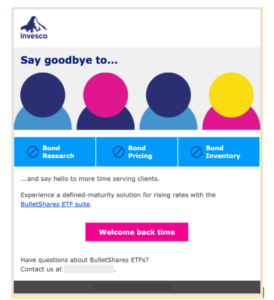 For illustrative purposes only
Learn how to use the foundations of email design such as background colors and typography. These subtle touches can make your emails "pop" while still being professional.
And don't forget to optimize for different email clients, apps, and devices, too. With the rise of remote work, mobile usage has grown, so ensure your emails scale down to smaller screen sizes seamlessly.
Ready for your financial services email marketing to stand out?
Seizing attention with your emails is easy with these tips in mind.
It's even easier with StoneShot's email marketing platform and agency services helping you with strategy, campaign management, design, and more.
With StoneShot, you get a friendly face and superior customer service. No faceless organization that treats you like another number here. Interested? Get in touch with us.